Commercial Winawood Furniture Sets
A traditionally styled set of furniture, that looks and feels like real wood, but can be left outside all year round.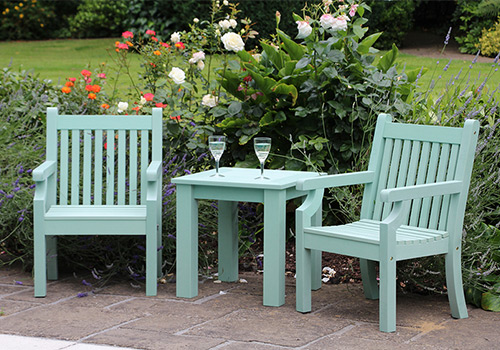 Winawood Is Perfect For Traditional Settings
If you're looking for a bench, chair, or seating area to match a traditional, natural environment, then Winawood is the perfect choice for you.
In areas where you used to prefer wood, but have become tired of the maintenance involved, Winawood is the perfect wood-effect replacement.
Retain your authentic atmosphere without worrying about chairs breaking or becoming unsightly, choose Winawood today.
Winawood Availability
You can browse the range in stock on our shopping website which is maintained regularly (click here).
The colours available are:
Teak
Brown
Duck egg green
Blue
White
Grey
And they're available in tables, chairs, benches, coffee sets, bistro sets and dining sets.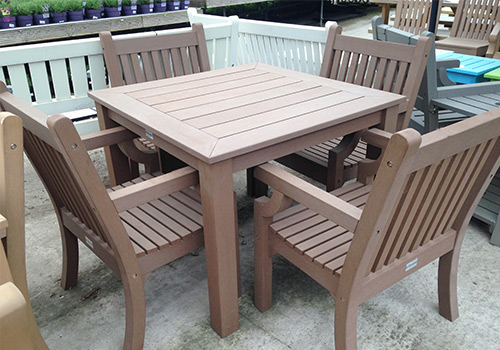 "The service we have received from Sapcote Garden Centre has been excellent. Even though our Care Homes are located in East Devon, a team from Sapcote delivered and built the Winawood Furniture we had purchased from them and took away all the cardboard packaging. It is a great business who offer true service and so much choice of product. I would highly recommend the company to anyone." J Cannon
Delivery, Build & Rubbish Clear
Simply put, you don't want the hassle of building lots of furniture, and probably also don't want the hassle of clearing away the rubbish at the end of it.
So we take the work out of it for you, by delivering your furniture, building it on site, and clearing away any of the rubbish left over.
This also allows us to spot any defects should they have occurred in transit.